All homeschoolers know that life gets in the way sometimes! We are so excited to be finally launching our first homeschool high school live online class! We are launching our live classes with a high school literary novel study with To Kill A Mockingbird!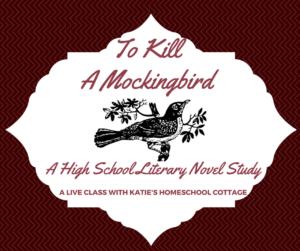 Join us in our first live online class in an easy to use virtual, live classroom that you can enter with a link that is emailed to you before each class. All you need is a good internet connection on your computer with the sound activated to hear the teacher – that's me. Students will chat with the teacher and one another in the chat box.
Classes will be recorded and posted on an easy to use, password-protected web page for your student to watch if you cannot attend class that day. Any assignments, class information, or documents will be available on this web page for easy access. Any conversation about the book will occur in the comments section of the page as well (all moderated by the teacher – that's me :))  To learn about me and my education and teaching background, visit my About Us page.
There will be reading assignments from the book (purchase required to complete the course), as well as discussion questions to answer about the reading in order to participate in class discussion about the book.
Here's what we will learn in this class:
vocabulary from the book
critical thinking skills from comprehension to analysis
literary elements and devices including –

plot and plot map
character analysis
all elements of a story
point of view
imagery and writing styles and techniques
dialect/vernacular
internal and external conflict
mood/tone
theme

author and historical background in the context of the book
This class is a 6 week study with one hour class sessions consisting of interesting and fun discussions and presentations with and by the teacher.
To introduce my first class, I am offering it at a discounted price! Visit this course to find out class dates and times and our special price! There are only 10 seats available, so be sure to sign up before all of the seats are gone!
If you have any questions, please ask in the comment section and I will get back to you as soon as possible!