I'm so glad you came by to visit Katie's Homeschool Cottage! I am so excited to be able to share with you free e-books and printables that I have created for your use to assist you in your homeschooling!
In order to receive your free resource, you will have to fill in your contact information with your email address so that you will receive a link from which to download your resource.
Your email address will only be used to provide you with your free resource and used by me to contact you with an occasional newsletter with interesting and helpful ideas and information to assist you in your homeschooling, as well as announcing any new resources or classes I have recently published. By providing your email address, you agree to receive these occasional emails. I am not a "salesy or spammy" person, so I try my best to keep emails to a minimum and only to what I feel you might find beneficial to your homeschooling.
Thanks for stopping by and please browse around my site, making sure you click on the Blog, Shop, and Courses buttons to see what ideas and resources I have here to assist your family in its homeschooling journey!
Available Free Resources
Summer Nature Study and More E-Book
If you're like me, you like the idea of bringing your kids out into nature, enjoying the current season and appreciating the little things in your surroundings. However, you might be concerned about covering the different areas of sciences. Not to worry! This book covers biology, physical science, and chemistry in a way that makes them understandable, fun, and "real life" for your children!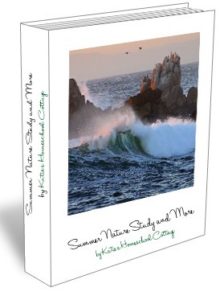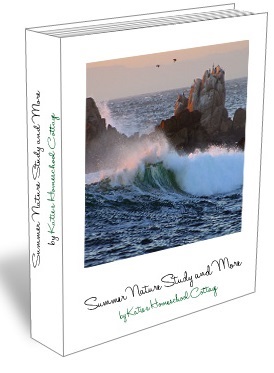 Just like our Nature Study, Nature Journals, and Poetry Through the Year book, this nature study uses nature to introduce more formal scientific study topics and areas for different months of the year for a particular season.
To find out more about this ebook and/or receive your free copy, click here!