Free Homeschool Resources
I'm so glad you came by to visit Katie's Homeschool Cottage! I am so excited to be able to share with you free e-books and printables that I have created for your use to assist you in your homeschooling!
In order to receive your free resource, you will have to fill in your contact information with your email address so that you will receive a link from which to download your resource.
Your email address will only be used to provide you with your free resource and used by me to contact you with an occasional newsletter with interesting and helpful ideas and information to assist you in your homeschooling.
Thanks for stopping by and please browse around my site, making sure you click on the Blog and Shop buttons to see what ideas and resources I have here to assist your family in its homeschooling journey!
---
If you're like me, you like the idea of bringing your kids out into nature, enjoying the current season and appreciating the little things in your surroundings. However, you might be concerned about covering the different areas of sciences. Not to worry! This book covers biology, physical science, and chemistry in a way that makes them understandable, fun, and "real life" for your children!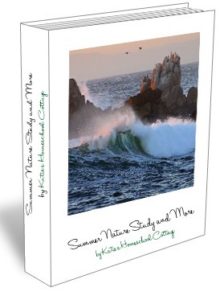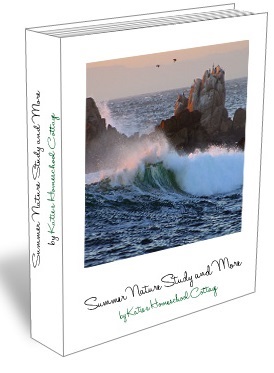 Just like our Nature Study, Nature Journals, and Poetry Through the Year book, this nature study uses nature to introduce more formal scientific study topics and areas for different months of the year for a particular season.
To find out more about this ebook and/or receive your free copy, click here!
---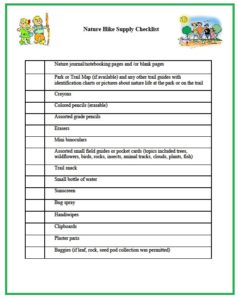 Don't go on your next nature walk or (hike as my boys used to like to call it) until you've downloaded, printed, and checked off this list!
Every proper nature walk or hike needs the proper supplies. And according to my guys these supplies are absolutely necessary!
Click here to receive your free copy to download.
---
You will want to make sure to download our Suggestions List and Activity Record Worksheets so you and your high schooler can keep track of extra curricular activities, groups, awards and achievements, leadership positions, and mentor/leader contact information to request those letters of recommendation or job references and transcript records that colleges want to see. They are also useful in organizing and keeping track of your high schooler's experience for a resume when they want to apply for a job or an internship or any special programs. A resume with an application really helps your high schooler stand out.
To read more about this set of worksheets or sign up to receive them, click here Homeschool High School Activity Record Worksheets.
---
We used notebooking pages for years in our homeschool! I feel it was one of the most effective ways to learn during our day – from formulating and organizing thoughts and sentences into longer written papers over time, remembering what we learned during a specific study, and being able to use those notebooking pages as a portfolio of what we accomplished over the school year – a great reward and treat to look at later!
Look at the sample pages and see what you think!
We have used notebooking pages throughout our homeschool years and it has been one of the most effective techniques used in our time together! Get your free over 600 page sampler to try out in your homeschool now!