Homeschool Resources
Here are some homeschool resources we recommend for you to look at more closely to meet your homeschooling and planning needs! (some may have an affil. code)
---

This Digital Homeschool Convention is free to view from July 22-25, with different speakers and workshops each day! After that date, it will be available to purchase for a bargain price to view at any time you want!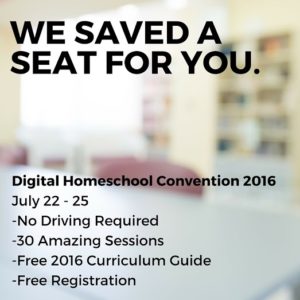 A Free Digital Homeschool Convention is coming our way! Can't make it to a convention this year? Want to avoid crowds, save money, have childcare conflicts? This convention is for you!
Watch at home July 22- 25!
Free Registration to watch these sessions when they go up on the internet live each day!
Free Curriculum Guide with discounts on assorted curriculum!
Over 30 workshop sessions between 20-40 minutes long on topics meaningful to you!

Homeschool Mom Encouragement Workshops
Special Needs and Learning Challenges and Learning Styles
Working Homeschool Moms
Assorted Workshops for specific ages and teaching all ages
I'll be presenting two workshops! Teaching the Necessities for Middle/High School English & Language Arts and Developing Language Skills in Primary and Elementary Ages!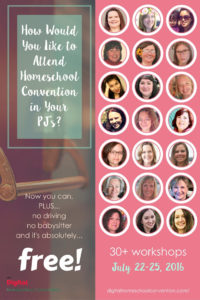 Both will be filled with tons of practical tips that I have garnered over 12 years of homeschooling and teaching for almost 30 years to assist you in your homeschool!
So make sure you mark your calendars and register now at the Digital Homeschool Convention 2016 !(affil)
Because you don't want to miss this!
---
Back to School Grand Prize Giveaway, Freebie, and Sales Event coming Soon! Stay tuned!
We have used notebooking pages throughout our homeschool years and it has been one of the most effective techniques used in our time together! Get your free over 600 page sampler to try out in your homeschool now!
---
Back to School Bash with freebies and Grand Prize Giveaway – July 11 – 15! Stay tuned!
Looking for a way to organize your homeschool? Look no further than this resource to assist you! The Organized Homeschool Course by Not Consumed Ministries leads you step by step in organizing you and your homeschool! Plus you get the Homeschool Portfolio Pack free with your purchase!
This Homeschool Portfolio Pack helps organize your homeschool year and accomplishments! Even if your state does not require you keep and present a portfolio, I've found over the years it is a great idea to keep these records! Not only for audit purposes, but also to reaffirm to you and your students how much you have accomplished during each year! I have found this a great boost and motivator over the years when I begin to feel tired and question our efforts.
Looking for character development and biblical studies? Not Consumed Ministries has you covered!

---
Looking for an all in one planner where you can plan  your personal, family, and homeschooling life in one place? This planner has it all to help you organize your household, personal/fitness/spiritual needs, and your homeschool schedule and plan all in one place! Check this out! It's brand new!
Until Friday, July 15, the initial sales price is only $14.99. After that date, the price will increase to $19.99. During this sales period, each purchase will also come with 2 bonus downloads: Busy Mom's Christmas Planner & Complete Thanksgiving Planner. These are great additions to the binder!
---